Participants in a new public dialogue generally supported the use of carbon capture usage and storage (CCUS) as part of a pathway to meeting net zero. This support was conditional on safety and CCUS being an effective way to reduce CO2, alongside other technologies such as renewables. Participants also wanted CCUS deployment to benefit local communities.
The dialogue was commissioned by the Department for Business, Energy & Industrial Strategy (BEIS) and UK Research and Innovation's Sciencewise programme to better understand public attitudes towards the development of CCUS technologies in the UK.
Developing CCUS is part of the UK Government's strategy to deliver net zero emissions by 2050. The Government is aiming to deploy CCUS in two industrial clusters by the mid-2020s, and for two more clusters to be operational by 2030.
Energy & Climate Change Minister Anne-Marie Trevelyan, said:
"Carbon capture usage and storage technology will play a key role in meeting our world-leading climate commitments and as we build back greener from the pandemic. We want the UK to become a world-leader in this technology and studies like this will ensure public views will be one of the key influences in our decision-making on this, ensuring communities benefit from this exciting technology and the jobs that can be created as it's developed."
The public dialogue was held online, with over 100 participants from five locations across the UK. The majority represented UK geographies already favoured by heavy industry, or well-suited to future CCUS cluster development, while a fifth of those consulted were from a location which is less likely to be directly impacted by CCUS deployment.
The majority of participants supported the role CCUS could play in the UK's pathway to net zero, alongside a national portfolio of other low carbon solutions, such as renewable energy. However, support for CCUS was conditional on two key factors: that CCUS must be safe and that it must make a meaningful contribution to UK CO2 emissions reductions. Strength of support was also conditional on additional factors, such as transparency around procurement and local public engagement, clearly identified community benefits (including the creation of local jobs), and commitments to minimise disruption to the local residents and the local natural environment.
Top 10 participant conditions for UK CCUS development: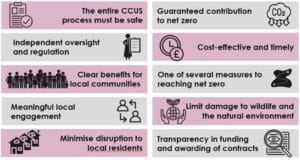 Tom Saunders, Head of Public Engagement, UK Research and Innovation, said:
"I'm very glad that Sciencewise has supported the first major public dialogue on carbon capture technologies and their deployment within the UK. In our race to reach net zero carbon emissions through the development of new technologies we must ensure that the perspectives and priorities of local communities and the wider UK public are listened to. This will help policymakers think about the benefits that local communities want to see and the challenges that they might face living with particular technologies. It is important that this dialogue is the start of a process and that public attitudes and priorities continue to inform and shape policy for carbon capture over the coming decade."
​To find out more about the methodology and findings, here is the Public Dialogue Report.
For further information on the public dialogue, please contact: